Passing your Grade 12 doesn't have to result in doubts about your future or career. So relax, as taking a pharmacy course in Zambia is an excellent way to start a career in healthcare. However, before you pick a pharmacy school in Africa, it pays to understand the benefits provided.
So, continue reading to find a variety of career opportunities you get by studying pharmacy. The "Where Can I Study Pharmacy in Zambia" question is also dealt with below. Additionally, we examine the top five reasons to study pharmacy.
The Growth in the Pharmaceutical Industry in Africa
The pharmaceutical industry in Africa is relatively new compared with other regions. Several of the countries in the sub-Saharan African region rely heavily on imported drugs. With countries in the region importing up to 90% of drugs, there is a strain on economies. However, steps have been taken to increase the production of medicines in the region. As a result, the pharmaceutical industry has grown. Currently, the pharmaceutical industry in Africa is expected to grow to between USD 56–70 billion by 2030.
The Region Has Significant Public Health Problems
Africa is home to around 16% of the total population in the world. Currently, about 24% of the world's diseases occur in the region. Among the major diseases in the area are HIV and Malaria. Over 70% of the world's HIV patients are from the region. Malaria is also a big cause of mortality. As 90% of the world's malaria-related deaths happen in Africa. Importantly, people have limited access to medicines in the region.
Demand for Medicines Continues to Grow
The African pharmaceutical market, according to estimates, is expected to grow at a CAGR of 5.9% up to 2022. By the year 2022, pharmaceutical sales in Africa are forecast to touch USD 25 billion. Countries such as Kenya, Botswana, Egypt, and Nigeria have experienced a strong annual growth rate. Patients are also increasingly able to access medicines that they could not earlier. As the demand for medicines grows, a variety of career opportunities have arisen in the pharmaceutical sector. So, graduates from pharmacy schools easily get jobs.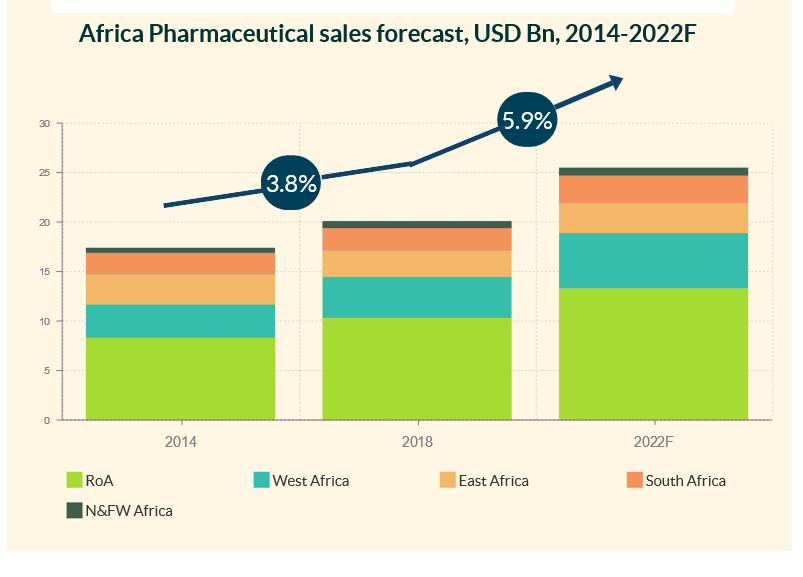 Source: Pharma Board Room
Growth in All Pharmaceutical Segments
Africa is experiencing growth in all pharmaceutical segments. By 2030, the demand for prescription drugs is expected to grow at a CAGR of 6.5%. In the same period, demand for generics is expected to grow by a CAGR of 10%, while over-the-counter medicines will experience a CAGR of 7.1%.
Global companies are ramping up their operations and hiring people with a pharmacy degree to meet increased demand. These companies are also increasingly tying up with local manufacturers and distribution agencies to deliver medicines to the market.
Local Pharmacists Are the Key to Success
The African pharmaceutical industry is diverse, and 30 cities have 37% of the consumers. However, distribution problems have to be overcome, so that medicines reach areas where they are most required. In this situation, local pharmacists who are graduates from pharmacy schools in Zambia are increasingly important, as they understand markets in the various countries of the region. Additionally, local pharmacists understand the diverse preference of consumers. They are also vital when it comes to suggesting prices for medicines and distributing them efficiently.
Top 5 Reasons for Taking a Pharmacy Course
High Demand for People with a Pharmacy Degree
If you are considering "Where Can I Study Pharmacy in Zambia," it is important to consider the job opportunities beforehand. Across the African continent, as the demand for medicines rises, healthcare professionals are needed to handle the pharmacist job. Consequently, schools that offer pharmacy in Zambia are seeing more pharmacy students graduating successfully. Additionally, in several African countries, pharmacists are among the most in-demand jobs. So, the high demand for graduates from schools that offer pharmacy in Zambia is expected to continue.
Pharmacists Are Helping to Combat Bioterrorism
Pharmacists who have graduated from schools that offer pharmacy in Zambia and other countries are increasingly needed to combat bioterrorism. In several countries, after completing a pharmacy course, graduates are playing an important role in preparing for public health emergencies. They are coordinating with doctors and finding the best ways to manage and treat patients exposed to viruses and bacteria.
In such cases, pharmacists who have completed a high-quality pharmacy course become important members of healthcare teams. They importantly ensure that patients take the right medication and reduce errors.
Wide Variety of Career Opportunities
Pharmacy schools in Zambia and other countries offer courses that prepare pharmacists to handle several jobs. As pharmacists have a well-balanced training, they can manage a business, keep contact with patients, and improve their health. A pharmacy course in Zambia also ensures that pharmacists can work in any setting. They can work in an individual store, which they own or be part of a large retail chain. Schools that offer pharmacy in Zambia additionally prepare graduates to play important leadership roles in healthcare.
Pharmacists work in various other areas, including government jobs. In the government, pharmacists are vital in ensuring that veterans get the best care. Pharmacists are also increasingly called upon to act as consultants to agencies run by governments and international organizations. Universities in Zambia that offer pharmacy courses also prepare graduates to handle jobs in the pharmaceutical industry. So, taking a pharmacy course in Zambia is the initial step to creating a solid profession as a pharmacist.
The Ability to Earn High Salaries
Taking a pharmacy course and meeting the education requirement for jobs offered allows pharmacists to earn high salaries. African countries such as South Africa also regularly have a high demand for pharmacists with a pharmacy degree. A pharmacist job in South Africa is also among the top 10 most in-demand jobs.
In Zambia also, there is a high demand for pharmacists, and those who have taken a pharmacy course in Zambia can easily find jobs. In several African countries, pharmacists also work in the pharmaceutical industry and earn high salaries.
Pharmacy Graduation Leads to a Respected Position in Society
Pharmacists can create solid career paths after pharmacy graduation, and their work is respected. Compared with developed countries where pharmacists deal with a variety of products, those in Africa mainly focus on dispensing medication. Pharmacists who have the necessary education requirement are also able to write prescriptions for drugs. Pharmacists who pass a pharmacy course in Zambia are therefore valued healthcare professionals in Africa. Additionally, the public trusts pharmacists and visits them first when they are sick.
Pharmacy Schools That Offer a Bachelor's in Pharmacy Are Popular
Pharmacy schools in Zambia are increasingly popular as they offer some of the best Bachelor of Pharmacy courses in Africa. A Bachelor of Pharmacy course lasts for four years, and students accumulate vital vocational training and pharmacist skills.
Pharmacy Schools Prepare Graduates for Lucrative Careers in Africa or Abroad
In pharmacy schools in Zambia that offer a Bachelor of Pharmacy course, students get access to lucrative career paths. Pharmacy students who pass out successfully from these pharmacy schools can also look for work in countries outside Africa.
Texila American University (TAU) has been recognized as one of the leading pharmacy schools in Zambia. Importantly, the university offers a well-designed Bachelor of Pharmacy course. The course also ensures that pharmacy students who complete it are fully qualified to work and excel as pharmacists.
TAU is among the leading universities in Zambia that offer pharmacy courses. It has well-trained and experienced faculty who guide the students to excel as pharmacists. Students who graduate from TAU are therefore fully equipped to enter the workforce and earn a top-tier salary.
Eligibility Criteria for the TAU's Bachelor of Pharmacy Course
Students who have passed Grade 12 are eligible to apply for the Bachelor of Pharmacy program at TAU.
Students should have Credit or better in the following 4 subjects: English, Mathematics, Biology/Agricultural Science, and Physics/Chemistry/Combined Science.
Building a successful, long-lasting career in pharmacy is possible if you study at TAU, one of the best universities in Zambia that offer pharmacy. This school that offers pharmacy in Zambia ensures that graduates get cutting-edge training and the best career opportunities.