Tired of Reading? Please listen to the blog
Texila American University (TAU) has commenced the regular PG Diploma programs with a US-based curriculum. The program is rendered with an advanced curriculum to meet the requirements. In addition, the course delivery is reliable and advanced with its modern learning platforms.
Any students who have successfully completed the MBBS from a recognized University with a proper license from a registered body (for example MCI for India) are eligible for the program. The course duration of the program is two years full-time.  The University renders knowledge-enhanced programs with different specializations.
Specializations
Dialysis Management
Non-Invasive Cardiology
Diabetology
The Clinical Training will be provided by the Narayana Hrudayalaya Hospitals (Narayana Health) all over India with the help of eminent faculty. Students will have the privilege of getting clinical postings at various Narayana Health hospitals in cities such as Bangalore, Jaipur, Hyderabad, Kolkata, Ahmadabad, Mysore, Shimoga, Jamshedpur, Raipur, and a lot more.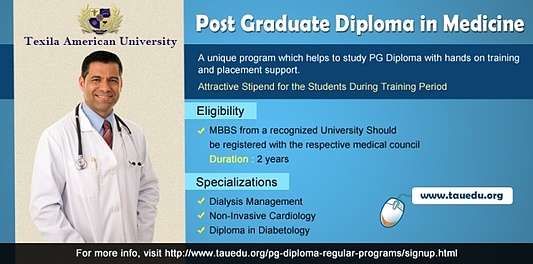 Narayana Health Hospitals is a multi-specialty hospital chain in India, headquartered in the city of Bangalore. In addition, the Bangalore cardiac unit of Narayana Health is one of the world's largest heart hospitals.
As per the University norms, the programs hold their importance in the simplified and effective academic curriculums and other requirements. The university also assists the students to achieve their aspirations with its postgraduate programs recognized worldwide.
Texila American University (TAU) renders the postgraduate programs in partnership with the University of Central Nicaragua (UCN). Presently, TAU has students from Asia, Africa, the Middle East and other Continents of the world for the postgraduate programs.
About Texila American University
Texila American University (TAU) is one of the reputed Medical Schools in the Caribbean, with its campus located in Guyana. Since its inception, TAU has been rendering the best-class education with a high deal of professionalism and exactness. In addition, it is a WHO Listed, NACG Accredited & MCI Approved University with partnerships worldwide.
For more info, visit http://www.tauedu.org