Before we start with the effects of the master of public administration on societal development, let us take a peek into what the course is all about. In general, the role of public administration is the implementation of government policies by civil administrators within a framework. Today, public administration is a part of every public section in local, state, and federal levels.
Lending Your Hand to Society with MPA
The role of master's degree in public administration (MPA) has huge potential in various sectors. For instance, according to a research paper 'Role of Public Administration in Tourism Department,' the tourism department of Poland's development entirely depends on the socio-economic policies generated by the public administration.
The paper also demonstrates the role of a public administrator in managing real estate policies, developing cultural centers, telecommunication infrastructure, local public transportation policies, co-operating with NGOs for promoting tourism, ensuring utility supplies, and so on.
As a master of public administration degree holder, your control over government policies and the development of departments is immense. This report is a simple example to remind me of the same, with regard to the tourism department. You can shape the society you live in by:
initiating a variety of services in your department for the welfare of society;
managing socio-economic justice by providing welfare in social security, sanitation, education, housing, unemployment relief, and so on;
standing as an instrument to turn policies in paper into laws;
stabilizing society by settling conflicts;
achieving welfare goals, modernizing society, and improving economic development;
forming a public opinion; and
managing commercial services.
Using MPA to Create a Better Tomorrow
Only the top schools that offer master's in public administration create a compassionate education style to promote the responsibility of becoming a public administrator in a classroom scenario.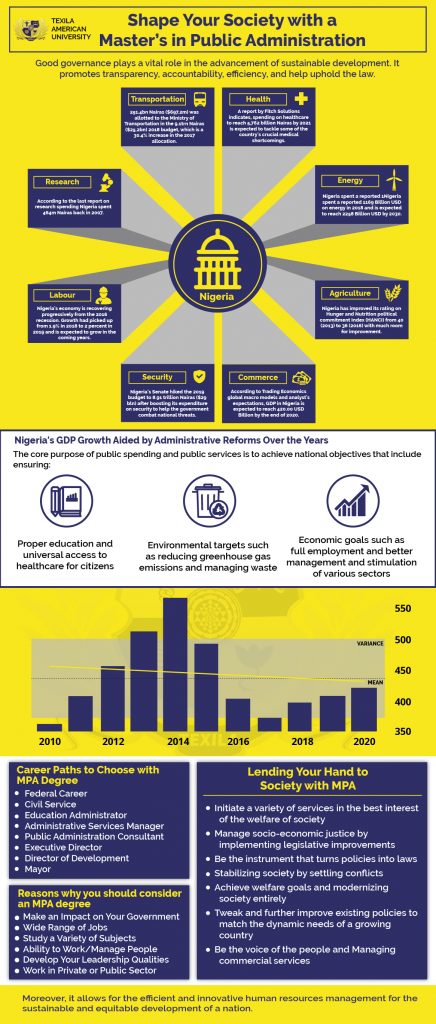 The books and study materials for the course can only give a gist of responsibilities and theories to help you in your line of career. If you wish to create a better tomorrow, you need to know the modern role and scope of a public administrator and how an MPA degree benefits you to be a good fit for such a role and scope.
Basic functional ability to meet the purpose for which the government created the department or team
Creating social welfare with a minimalistic intervention from the state or other governing bodies
Combining local policies with international scenarios. This area is where your real-time training from schools that offer a master's in public administration would come handy.
Creating specialized plans to accommodate the special demands and specifications of a particular group or unit
Handling pressure on the resources available like food, shelter, and others
Creating awareness among the public about the policies
You need to choose the top schools that offer master's in public administration to gain comprehensive knowledge about the dynamic world you are about to work in. The technological advancements, new management principles, customer aspirations, and others are creating new trends in public administration's scope.
Why Textbook-Oriented MPA Will Not Suffice?
You need one of the top schools that offer master's in public administration to realize the roles and scopes mentioned above. A textbook oriented MPA course would leave you knowledgeable but not efficient. You need a degree that offers a BRICS method of training.
You can become a public administrator who can create a change only if you have a real-time example oriented training based on research and publications. Analytical skills, current scenario learning experience, entrepreneurial skills, and professional knowledge are essentials.
Are you looking for such schools that offer a master's degree in public administration? In association with the Central University of Nicaragua (UCN), Texila American University offers a recognized degree in MPA with real-time knowledge and textbook knowledge-filled learning platform for students.
Any university that offers public administration degree provides a basic balance of finance and managerial education. This combination is no different from a basic MBA degree. However, MPA adds real-time and textbook knowledge about statistical analysis, constructing budgets, evaluating programs, policy analysis, and managerial skills for leading public sector departments, NPOs, and others.
Beyond choosing a university that offers public administration degree, you can also enroll for internships, which would increase the value of your profile in the labor market. There is a difference between talent and leadership quality. Only a good course and relevant real-time training can provide you both.
Demand for MPA Graduates in Today's World
The demand for MPA graduates is gradually increasing. Since 2017, we can see an increase in the annual salary of MPA graduates. Today, the annual salary for an MPA degree holder is $67,000, on average.
Do you want to start a career in the MPA field? You can choose online courses or traditional classroom courses from reputed institutes now.
Areas to Shine with a Degree in MPA
An individual with a degree in master of public administration need not limit his services to just the government organizations. There are numerous non-government and NPOs, which hire such candidates. You can also create a career line overlapping different sectors like a career in fundraising, which would benefit both NPOs and government bodies.
Unlike other management degrees, the master of public administration will have better flexibility in choosing careers. Other common areas where one can find a scope with this degree are:
organizational governance departments in both government and private sectors;
government positions in human resource developments, public relationships, financial planning, and others;
association executive jobs in political groups, trade groups, and others; and
local body jobs like a city manager, city planner, and others.
Keep in mind that some of these careers need a basic degree in the pertaining field and a master of public administration degree. For instance, if you are looking for a career as a policy advisor for budget analysis, you would need a financial background along with the public administration degree.
Career Paths to Choose with MPA Degree
Those who have completed an online master of public administration programs are in demand in various fields, as mentioned above. However, not all career paths can help you use the degree for societal benefits. Here are the top areas to choose if you wish to pay back to your society.
Federal Career
Those who wish to work in the federal government take up online master of public administration programs to improve their chances of finding jobs. A career in a federal department will allow you to use the MPA degree for the benefit of society.
Civil Service
If you are looking for a people-oriented position to work with citizens, you can choose this career path. There are numerous departments under this career line.
Education Administrator
The demand for an MPA degree holder in the education department is increasing. A person with MPA degree benefits the department by providing instructional leadership and increasing quality of daily management of the institutions
Administrative Services Manager
This line of career is a sound choice for those who want to work for departments like finance, insurance, education, healthcare, and others. You can find roles in both state and federal government.
Public Administration Consultant
If you have a finance background, you can choose an online master of public administration programs to find careers in this line. You can help in making policies regarding budgets, deadlines, and others. This line is a lucrative option in both public and private departments.
Executive Director
This career position is a high-level job in which you can make procedural and policy recommendations for both public and private sector departments.
Director of Development
This position covers the fundraising activities for NPO and other departments.
Program Analyst
The program analyst position is an entry-level for those who have an online master of public administration program certification. Your job will focus on evaluating, analyzing, and planning programs for any specific department. As you grow in this line, you will become Program Director.
Mayor
Among the top careers with MPA, this career is the most commonly known one. Those who wish to become a mayor should start their career in any of the lines mentioned above and move up slowly to run for the position of mayor.
These are the top career lines to start with online master of public administration programs. There are a few lesser-known career lines that can help you shape the society like:
Transition Assistance
Foreign Service Officer
Housing Specialist
Case Manager
Research Associates
Field Examiner
Associate Leader for Charity Groups
Secretary Jobs
If you wish to stand in a position where you can positively change the society, you need a master's in public administration distance learning courses from a reputed institute. The value of your degree matters most as numerous candidates will compete for the same position.
Choose institutions with recognitions from government associations. You need not worry about finding time to take up the course. Numerous institutes offer master's in public administration distance learning. Thus, you can enroll with ease and start learning today.
Join us and make a better tomorrow with your MPA degree.