Tired of Reading? Please listen to the blog
Blog Summary
Medicine program
With a 1:12,000 doctor-patient ratio, the Zambian government and healthcare organizations encourage students to become medical practitioners to overcome this shortage. Dr Ajay Poddar, DVC of TAU was invited to a talk show by Radio Phoenix to share his thoughts on the current state and how TAU is supporting by providing world-class medical education. He spoke in detail about the demand for medical education in Zambia, the scope of studying medicine with TAU, learning methodologies, career opportunities and success stories of TAU alumni. With improvements in the quality of education, Zambia is an ideal place to pursue education. TAU contributes significantly with world-class facilities and international expertise.
Excerpts from a radio talk on Radio Phoenix by Dr.Ajay Poddar, Deputy Vice-Chancellor (DVC), Texila American University on 21st March
That's not just a number. It's the doctor: patient ratio in Zambia (WHO report).
An alarming and poignant situation – that's what the number actually represents. The shortage of trained doctors in Zambia is a pressing cause, and governments and healthcare organizations are leaving no stone unturned to address it. One feasible solution to the problem is to cultivate the culture of having home-grown doctors, nurses and other medical practitioners. A demand for studying medicine in Zambia therefore has been on the rise and both government and private universities are playing significant roles in providing quality education.
On 21st March 2018, a talk show was organized by Radio Phoenix to address the pressing matter of why study medicine in Zambia and the quality of medical education being provided. Our Deputy Vice-Chancellor (DVC), Dr. Ajay Poddar was invited to the event to share his thoughts on the current state and how Texila American University (TAU) is helping in providing world-class medical education to its students.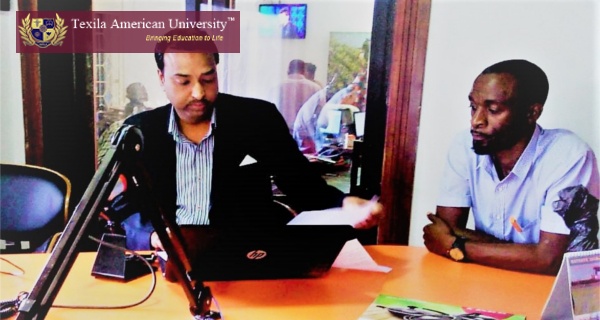 The highlights of the talk show included:
Why TAU is a global-university (details about our history, global presence with campuses in 3 countries, over 4000+ enrolled students from around 70 countries and more)
Why open a school of medicine in Zambia (discussions on why Zambia is a safe country, the potential of students in Zambia, the demand for medical education in Zambia, the lack of infrastructure and how TAU is able to bring technology-backed learning methodology into the learning system)
What's different about our learning methodology keeping current market demands in mind (details on the credibility of our university, approval from HEA and HPCZ, partnership with UNZA, membership in ICDE and DEASA etc.) 
How through our diverse academic programs we seek to train doctors with varying contemporary skill set (details on our admission calendar, eligibility, benefits when you study MBChB at Texila or other programs such as HPFP, B.Pharm, Bachelors and Masters in Public Health etc.)
Message to students in Zambia (success stories of students who have graduated from the Texila family and working with UN, WHO, government bodies etc., and future plans for uplifting quality and standard of education in Zambia.)  
There have been noteworthy improvements in the quality of education available in Zambia over the years. We hope to be able to contribute positively towards that by bringing our international expertise, world-class infrastructure and experienced faculty to the country, making Zambia an ideal student destination in Africa!