Tired of Reading? Please listen to the blog
Texila American University organized a week-long residential program for the students who are pursuing their Bachelor's programme in Business, Information Technology, and Education.
The residency program was conducted for students who are pursuing their online classes @ Texila. The residency program gave the students awareness about the programs that are conducted at the university campus.
Guest Lectures
There were guest lectures organized for various days on topics like Business, Information Technology and Education.
Mr. John Anderson, Senior Operation Managers, York firm. He addressed on the topic Management of Agricultural Biodiversity through Information technology.
Mr Bechani Banda (TAU lecturer) – She addressed about the Importance of Information Technology in the current scenario.
Mr Antony Mulenga – Spoke about Understanding Body Language for better relationship.
Ms. Muchimba – Spoke about the Current trends in education
Lectures at residency classes helped the students to relate the course work done via LMS through doubt clearing sessions. Orientation to assignments and capstone projects helped the students to relate the academic requirement in detail. Extracurricular activities were also conducted.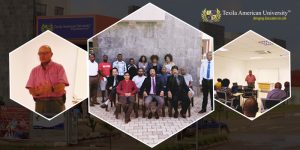 Extra Curricular Activities
Apart from the general schedule that was planned for this program. They also actively took part in debate, quiz and extempore activities.
Campus Tour
The students were also taken on campus tour. During the campus tour the students got to witness the Computer lab, Library, Study area and the Student-Faculty interaction lobby. The students were very impressed about the college infrastructure and felt happy to be with Texila
Closing Remarks with Vice-Chancellor:
On the final day of the residential program, the students had a get-together session with all the faculty members. The Deputy Vice-Chancellor interacted with the students and gave their valuable suggestions about the program and the University.