Tired of Reading? Please listen to the blog
Apply now and start your academic life at the most exciting International Medical University!
Texila American University invites applications from the students for the following postgraduate programs:
MD/MS – 3 years
Examination based Master of Medicine (MD/MS) degree programs along with training for Royal College Degrees.
Clinical postings can be provided in the premium teaching hospitals in India, West Indies, Philippines and Many more.
Eligibility
MBBS or equivalent degree in modern Medicine from a recognized university
Should be registered with the respective Medical Council or Licensing Body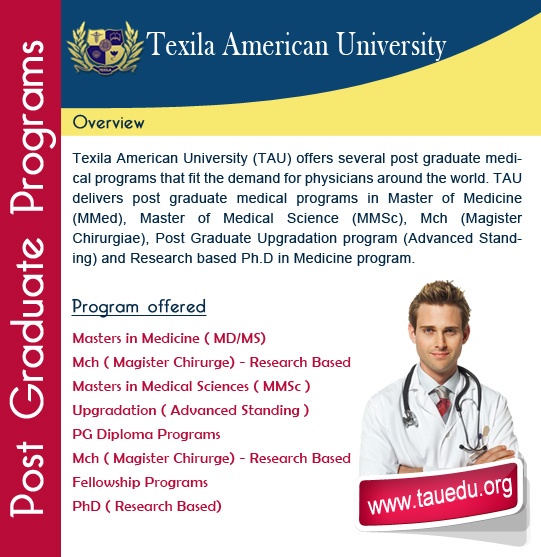 MMSc (Master of Medical Science) – 1 year
The main thrust of this program is to gain knowledge and competencies through blended learning which is acquired through an appropriate interplay of coursework, clinical work, and research.
Similar programs are very much in vogue in countries like the United Kingdom, Australia, and Malaysia.
Eligibility
Bachelors Degree in Medicine
Registered with the respective Medical Council of India or the State Medical Council or another Licensing body.
MCh (Magister Chirurgiae) – 1.4 years
This course is designed for the upcoming orthopedic surgeons and as well for the senior Surgeons who want to update his/her knowledge and gain an additional qualification.
Eligibility
MB ChB or MBBS or equivalent degree with a postgraduate qualification, i.e., MS/MD, Diplomat of the National Board from India, FRCS or MRCS from the UK or an equivalent specialist qualification
PG Advanced Standing
PG AS program is a unique program offered by TAU, whereby the PG Diploma / DNB(Pass/Fail) /FCPS/FRCP/MRCP candidates can credit transfer into an MD/MS examination based qualification under TAU without disturbing their busy schedule.
TAU also offers the opportunity to train the students of PG AS to appear for the Royal College examinations for better knowledge and mileage.
Eligibility
MBBS from a recognized university
Registration with the respective Medical Council
DNB Pass/Fail or PG Diploma
PG Diploma – 8 months
Students with basic Medical Education are inducted into this program and will be able to procure a world class PG Diploma degree in a span of Eight Months.
Eligibility
MBBS with recognition from the Medical Council
PhD
Ph.D. Program is provided out of the commitment to promote research activities, both in basic and applied aspects in various subjects of this University.
Admission to the Ph.D. program will be made under various faculties, covering a wide spectrum of disciplines. Candidates shall also be permitted to register for inter-disciplinary health programs.
Eligibility
Students with a Master's level (MD/MS) in the same specialization or an equivalent degree can apply for Ph.D.
Fellowship Programs
Fellowship Education Curriculum is designed with both theoretical and clinical components-dealing with patients-observing and involving themselves in the overall process of learning-applying in the aspect of patient care and treatment.
Offered with TOP hospitals in India
Apply Online and get enrolled for the September 2014 fall intake.