Tired of Reading? Please listen to the blog
Blog Summary
Public Health is the science of preventing disease, prolonging life, and promoting health through the organized efforts of society. Popular programs in public health are BPH, MPH, and Ph.D. It has over 60 specializations, but most institutions focus on only a few. TAU is one of the leading institutes offering DBLP programs in public health. Over a thousand students have graduated and are working in leading organizations. Public health experts find work in government agencies, international organizations, private research, academics, industry, banking, finance, charitable groups, and foundations.
---
Public Health is defined as "the art and science of preventing disease, prolonging life and promoting health through the organized efforts of society".

Public health is concerned with protecting the health of entire populations. These populations can be as small as a local neighborhood, or as big as an entire country or region of the world. This work is achieved by promoting healthy lifestyles, researching disease and injury prevention, and detecting, preventing and responding to infectious diseases.
There are many options for a successful career in public health. Before getting to the highest paying careers in public health, let's review the top public health degrees, and why they are important.
Bachelors of Public Health (B.PH)
Master of Public health (M.PH)
Doctor of Public Health (Ph.D. in Public Health)
What Are The Specializations Of Bachelors In Public Health?
There are over 60 public health bachelor degree programs all over the globe; yet, many students with a desire to work in the public health field often choose a different area of study for their undergraduate/Bachelor's degree. This is because the majority of schools do not offer a Bachelor's degree in public health and many undergraduates understand that their Bachelor's degree does not have to perfectly align with their career goals since it is likely they will need an MPH Degree. However, most schools do offer programs that are closely connected; Some fields/programs to consider are:
Health Sciences
Environmental Health
Social Work
Healthcare Administration
Nursing
Nutrition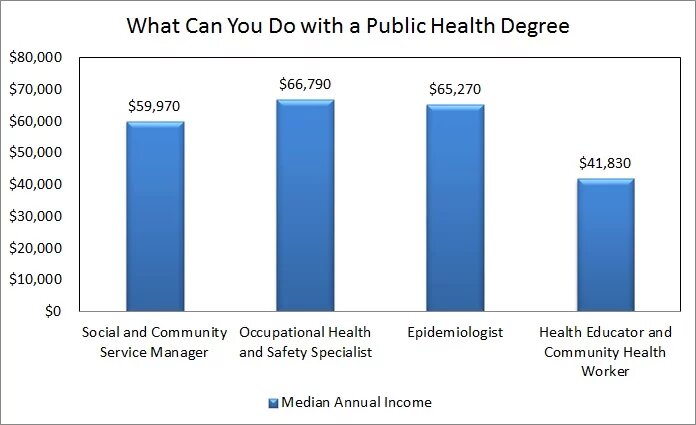 What Are The Specializations Of Masters In Public Health?
A masters in public health (MPH) is a graduate-level degree designed to prepare professionals to work for the general public to improve the health of the entire population. Many professionals with an MPH work for non-profit or government organizations, others work for different hospital groups or other for-profit businesses.
Some MPH programs require a concentration or track in:
Bio-statistics
Epidemiology
Environmental Health
Health Policy and Administration
Social and Behavioral Sciences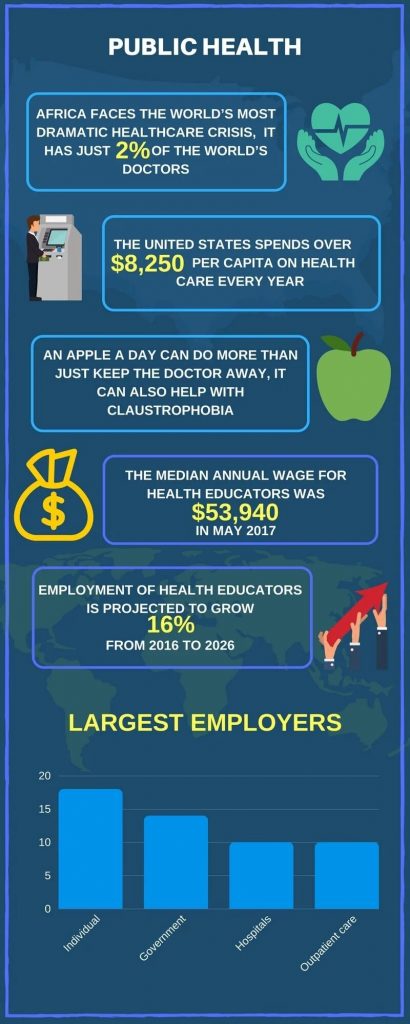 What Are The Doctoral Programs in Public Health?
The Doctorate of Public Health (DPH) is an advanced terminal degree for public health, meant for experienced public health professionals that already have their Masters in Public Health (MPH) or similar degree. Specific degree nomenclature varies based on university and specific public health school. Some offer DPH degrees, while other universities name the terminal degree Ph.D. in Public Health, Doctorate in Public Health, or Doctoral Public Health.
As one would expect, the doctoral level of public health typically has a multitude of specializations at each university, including Biostatistics, Leadership, Environmental Health, and Health Promotion/Disease Prevention. Additionally, there are many entry requirements depending on the university, mostly focused on years of professional experience.
You know briefly about the public health program and this would give you an impact to set your career in the public health sector.
Are you looking to enhance your career without disturbing your current commitments?
Are you working women or men who want to study Public Health?
There are institutes offering distance learning programs. Texila American University is one of the best institutes in Africa providing Distance & Blended Learning Programs (DBLP) in Public Health.
Currently, we have thousands of students who are completed their degrees in public health and placed in top companies like:
World Health Organization (WHO)
Africa CUAMM Italian NGO
Ministry of Health, Lesotho
Ministry of Health Botswana
Tanzania Food & Drugs Authority (TFDA)
Aids Healthcare Foundation
International Organization for Migration
Federal Ministry of Health
County Government of Mombasa County
Edo State Ministry of Health
Texila American University offers a wide range of bachelor, Masters / Postgraduate and Doctoral Level Programs in Distance & Blended Learning modes.
The unique program delivery model allows you to learn and earn your degree at your convenience without compromising your professional and personal lives.
Vast Range Of Job Opportunities In Public Health
The next question that comes to your mind is, what are the job opportunities I can get once I have completed my public health degree? Right?
The solution to your questions is here!! Are You Excited to know!! Here we go!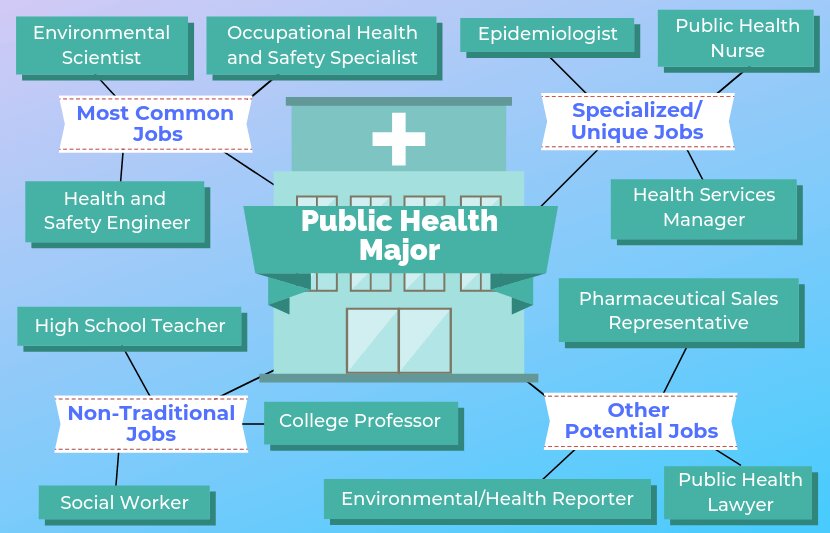 Global public health jobs include every segment of the field, from medical professionals to managers, and educators to executives. Experts in global public health, whatever their particular discipline, may find work in any number of organizations:
Government agencies (in the US and abroad)
International organizations (such as the WHO)
Private research and academia (universities)
Faith-based charitable groups (like World Vision)
Industry, banking, and finance (like the World Bank)
International charitable foundations (like the Gates Foundation)
Jobs are ordered according to median salary expectations, sourced from the CDC federal agency (Centers for Disease Control and Prevention) :

S.No



Job Role


Salary (median salary expectations)
1


Policy Analyst

$114,290
2

Epidemiologist
$104,680 (CDC)
3
Medical officer
$104,680 (CDC)
4
Program
management
And Advising
$96,540
5
Health scientist
$94,581 (CDC)
6
Public Health Advisor
$88,650 (CDC)
7
Field consultant
$81,330
8
Disaster Relief
Support
Technicians
$54,515
9
Global health
educators
$44,200
10
NGO Aid Worker
NGO Aid Worker' salary varies
from one organization to another