Tired of Reading? Please listen to the blog
Blog Summary
International Nurses Day is celebrated on May 12th with an aim to raise awareness of the important role nurses to play in society; highlight the development of the nursing profession and keep up with the contemporary standards. Public awareness campaigns and admission drives for aspiring candidates; to join full-time and online nursing programs were organized at TAU. Nurses also got to share knowledge, expertise, and best practices.
---
May 12th is commemorated globally as International Nurses Day and at Texila American University (TAU), we understand the need to spread the word about it.
Nurses are the bedrock of the healthcare system. Nursing is considered as service to humanity that renders hope to everyone and bridges the gap between the sick and healthy, young and old.
Public awareness campaigns, such as conferences and talk series play a critical role in promoting the value of nursing among the general public. Today, there are on-campus and online nursing programs available for aspirants to study and pursue this noble profession.
Importance of International Nurses Day
The aim of celebrating International Nurses Day is to raise awareness of the important role of nurses to play in society. It helps to highlight the development of nursing as a profession and to keep nursing up to contemporary standards.
This day serves as a platform where nurses and other important stakeholders can discuss issues affecting them. The celebration also helps them to share knowledge, expertise and best practice nursing care.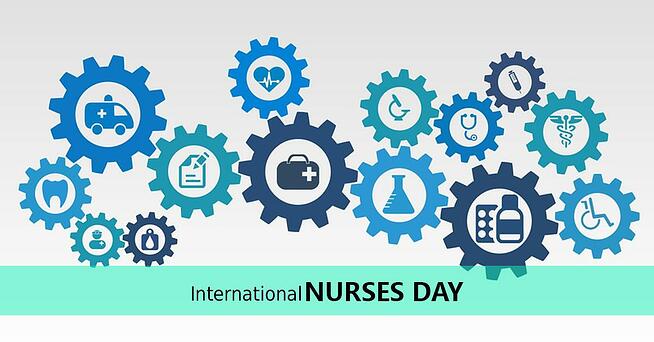 Challenges faced by Nurses
The nursing profession has its own set of challenges. While some of the challenges are specific to countries/regions, others have a global appeal. Some of the common challenges in nursing faced globally include:
Staffing shortage is one of the major problems currently faced by nurses. This puts great pressure on them because they are left with no support and they have to work more hours.
Long working hours and doing overtime is another issue nurses have been facing over the years. It is common for nurses to do a 12-hour shift and they are often required to stay at work in crisis or emergency. This problem mainly arises due to staff cut.
Workplace hazard is a critical problem faced by nurses. Nurses work with needles, sharp tools and heavy equipment which often leads to accidents and mishaps. To avoid such accidents, hospitals should train their nursing staff and have proper guidelines and rules and regulation in place.
In the developed countries in Europe and USA, there are policies and reforms in place, that give respite to the tough life and schedule that nurses have. In many other countries around the world, this is not the case and nurses often have to work harder than their share.
This International Nurses Day, with the Texila Knowledge Talk Series scheduled for May 31st we propose to have the best minds in healthcare get together and speak on the concerns affecting nurses in Zambia and other countries.
Join us on the occasion and share your views on the current challenges faced and how together we can provide a better world for nurses, who contribute positively towards improving healthcare in Zambia.