Tired of Reading? Please listen to the blog
Blog Summary
The key focus of public health professionals is to improve quality of life and wellbeing. It's important for every country to have qualified and trained professionals. Public health is a diverse field and offers several opportunities. With increasing demand, an MPH degree will add more value to your career. Awareness of the best health practices has led to demand for professionals with public health degrees. Popular degrees in public health include MHA, MS, MSPH, MPH, Ph.D., and DPh. TAU offers the best programs in public health including both on-campus and online programs. TAUs alumni are working in several esteemed organizations including WHO. Career opportunities include public health specialist, health promotion campaign manager, public health specialist, public health screening coordinator, epidemiologist, health data analyst, lecturer in public health, and head of public health intelligence.
---
---
Fast-pacing population and various challenging disease outbreaks enforce African countries to dramatically expand their health services. Thus, Africa needs a huge range of health workers to provide quality healthcare to their population. However, the countries in Africa do not have enough medical facilities, infrastructure, and most importantly, health workers. It is estimated that Africa will face a shortage of 6 million health workers by the year 2030. If this condition prevails, the health of general public will be placed in jeopardy.
Public health practitioners are the keys to building a healthy nation. Therefore, every country should strengthen and expand its public health workforce through hiring qualified and well-trained professionals.
Overview of Public Health Practitioners
The core idea of public health is to promote and protect the health of the public. The role of a public health practitioner is to create awareness among them. They promote healthy practices and prevent people from critical illness. In such a way, they ensure the healthy living of their community.
Public health deals with recognizing and preventing the social aspects of diseases that can endanger lives beforehand. With the help of tech tools, statistics, management, research, and evidence, public health practitioners will be able to identify the disease. They will maintain the balance between biomedical and social science in communities, countries, or even continents. Promoting health and improving the quality of living beings is the key focus of public health practitioners.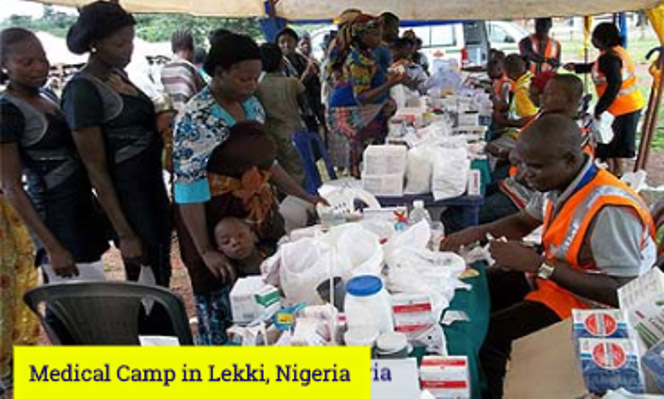 Image Source: Pulse.ng
Public health involves a lot of fields. To name a few:
Nutritionists
Sanitarians
Social workers
First responders
Health educators
Scientists and researchers
Epidemiologists
Community planners
Restaurant inspectors
Occupational health and safety professionals
To sum up, these public health practitioners stand by the proverb "Prevention is better than cure." They safeguard the general public from various illnesses and pandemic by educating and creating awareness among them.
How Can Africa Meet This Huge Demand for Public Health Workers?
As suggested by WHO, African countries have to expand their health workforce to provide quality healthcare to their citizens. These governments have to insist their citizens to take up public health degrees and make themselves qualified to be placed in various positions. To cope up with the demand, the youngsters must take up public health as their career path and serve nation. Besides this, they can also get a lot of benefits as there is a greater scope for the qualified professionals in this field.
The Importance of Pursuing a Public Health Degree
As there is a huge demand for public health degree holders, especially in Africa, taking up a public health degree would be a smarter choice to explore more job opportunities in this emerging industry. Having a master's degree in public health is an add-on benefit to set up a demanding career.
The health of the community becomes the responsibility of public health practitioners. It requires specialized people to handle the situation when there is a pandemic. Getting a degree in public health will equip the practitioners with the required skills and knowledge.
Mostly, the public health degrees are framed to cover all the aspects of the industry. Upon taking up this profession, one can serve society and do constant research on the well-being of their community.
Being the key player in the health of society, public health degree holders are in demand. Even countries like Zambia and other African countries need them badly to make their nations and people healthy. These public health degree holders can get placed in various governmental as well as non-profit organizations.
Public Health: Scope and Opportunities
Most of the developing countries, especially countries in the African continent, are highly in need of public health professionals. Africa has 2.3 healthcare workers per 1000 population. These developing countries witness the outbreak of diseases more often.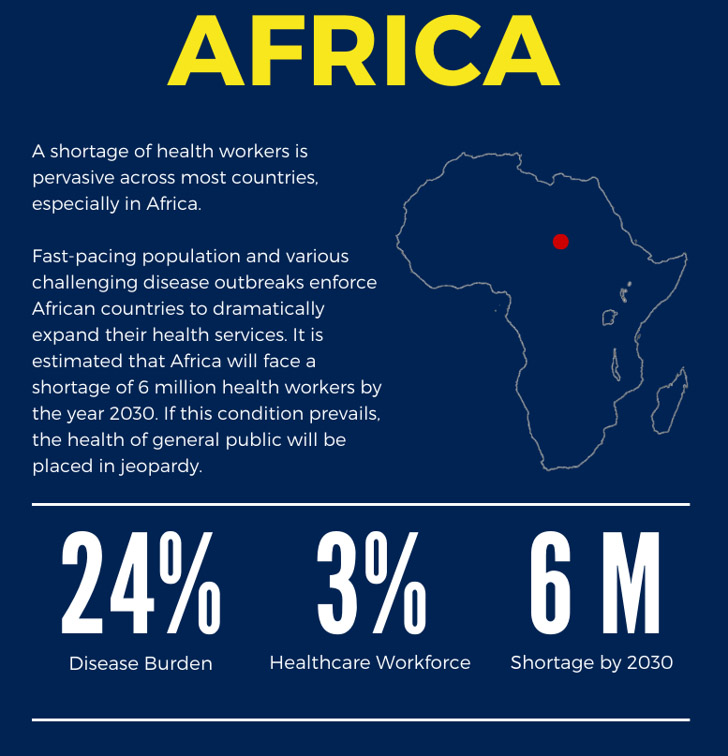 As healthcare workers remain a priority in various countries, the number of healthcare workers is not keeping pace. Therefore, those who have gained professional degree in the related field will have scope and opportunities in various public and non-profit organizations.
Importance of Pursuing Master's in Public Health
Poverty and poor infrastructure have made developing countries to concentrate more on the public health sector. Even though there is a huge range of opportunities, the industry requires qualified professionals. Therefore, it is mandatory to have a master's degree in public health to get placed in higher positions.
The study generally includes coursework in:
Health informatics
Biostatistics
Anthropology
Research methods
Health systems and policy
Mother and child health
Occupational safety and health
Tools of public health and practice
Decision making
Disaster management and many more.
The rising awareness of health, hygiene, and safety consciousness has increased the demand for public health degree holders. The demand and opportunities in this industry are high and emerging. The most preferred master's degrees in public health are:
Master of Health Administration (MHA)
Master of Science (MS)
Master of Science in Public Health (MSPH)
Master of Public Health (MPH)
Doctor of Philosophy (Ph.D.)
Doctor of Public Health (D.Ph.)
Besides all, public health workers must stay updated on the new disease patterns and technologies in the industry. Therefore, taking up a master's degree in public health will enrich the knowledge and skills to handle emergency situations.
It is expected that healthcare occupations will grow at a rate of 14% by 2028. Some of the career opportunities in this emerging industry include:
Public Health Specialist
Health Promotion Campaign Manager
Public Health Specialist: Healthy Living
Public Health Screening Coordinator
Epidemiologist; Health Data Analyst
Lecturer in Public Health
Head of Public Health Intelligence
The Pros of Pursuing a Master's in Public Health
There are varieties of careers to choose from.
Salary of a graduate with a master's degree in public health is high.
The satisfaction level for this job is high as the work impacts the lives of millions of people.
Anyone with a relevant undergraduate degree can pursue a master's degree in public health online.
It has the option to study online.
Job security is assured because of the growing demand for public health professionals.
It offers a wide range of ample opportunities in various regions across the globe.
The Best University to Pursue an MPH Degree
There are so many educational institutions offering this degree online and on-campus. Texila American University (Texila) is a renowned university that has campuses in Zambia and Guyana. However, they offer a few programs online through its Distance and Blended Learning Program (DBLP) for the convenience of the working professional to pursue their dream degree.
Under DBLP, Texila offers a master's degree in public health online. Candidates who have completed a degree in health or life science can apply directly. Non-science graduates can also apply provided they have 2+ years of experience in any healthcare sector. Texila's master's in public health degree online is recognized worldwide at an affordable cost.
Alumni who have completed a master's in public health online at Texila are working in various esteemed organizations, including WHO. Watch the below video to know the worldwide recognition of Texila's online programs.
At times, we may be placed in a situation where we have to pursue higher education without leaving our jobs. We want to upgrade our educational qualification while working full time. Therefore, pursuing a master's degree in public health online is the best option for working people.
A master's degree will feed our knowledge while pursuing our interests. Therefore, Texila has designed this master's in public health online in a way to help aspirants pursue without leaving their jobs. Moreover, the best part is its learning methodology, named BBRRIICCSS. It is developed exclusively for online and distance education.
Texila employs this unique teaching methodology, BBRRIICCSS, to make students learn the subjects in blocks. Block-based learning is dedicated to education that focuses on more immersed learning. It helps students understand the concepts in detail and learn with ease while comparing with the traditional learning methods.
There are many lives at stake. The well-being of the human race is in the hands of skilled public health professionals. Make it worthwhile with a public health degree!