Tired of Reading? Please listen to the blog
Blog Summary
PhD is the highest degree in public health and is suited for students aspiring to get into research and academics. It enhances your analytical and conceptual capabilities. Students can explore career opportunities as health policy analysts, epidemiologists, public health educators, biostatisticians, etc.
---
Know Your Facts
PhDs are a big investment of a student's time, efforts and money. Numerous universities are offering online distance courses in doctoral programs to create professionals who would make a difference in the world communities. It is therefore prudent to learn about the field of their study before making any decision. Let's learn about the Doctoral Degree in Public Health to help students scrutinize their career options carefully.
Why a Ph.D. in Public Health?
Ph.D. in Public Health Degree is an advanced study in the field of public health, which prepares professionals in handling the administration, teaching, research or practice abilities as well as in advanced analytical and conceptual capabilities where it may be required. The professionals in this field are responsible for identifying health trends, collecting their data to ensure people are educated about the risks of unhealthy living conditions and diseases borne out of it. They are entrusted with the task of improving the health of communities, illness prevention and advocating the cause of good health.
Career Options
The Doctoral of Public Health Degree holders chooses their dissertation topics based on the field of their interest in which they wish to embark their careers. Students have the following options to go for a career.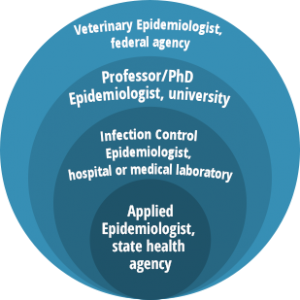 Health policy analysts – Conduct research and analyze the situation of health in an area. They assess the health policies of a government and advise them to design laws that could prove beneficial to making health benefits accessible for all.
Epidemiologists– They study the outbreak of diseases in a population and suggest remedies to cure the affected and prevent its future outbreaks.
Public Health Educators – They work to create awareness among communities about health risks or teach the next generation of leaders who will substantially bring a change in public health.
Biostatisticians– They collect data and utilize it to analyze instances of health issues like diabetes, cancer and the outbreak of other serious diseases in communities. Their research findings are converted into statistical tables for the help of other professionals.

Following is a detailed analysis of the career options and other details. Source: *U.S. Bureau of Labor Statistics (BLS); **PayScale.com
Alternative Careers
Environmental Scientist: Use their knowledge to protect human health and the environment. They responsible for the collection of data, plan development and sharing the information achieved with the government, business or the public. They work with the state or government, but can also be independent consultants.
Healthcare Administrator: A Healthcare Administrator is employed in the hospitals, nursing homes or clinics as they support the physicians in coordinating the health issues reported Social Worker.
Research and Academia: They dedicate their life to research about the raging issues of bioterrorism, vaccines, healthcare outcomes, mental health, and social behavior. They constantly search for answers to the epidemic that is ensuing in public life.
Dr.Eric Gyamfi has changed his career with a Doctoral degree in Public Health from Texila American University